One of our attempted LEED credits calls for us to source construction materials regionally– within 500 miles of our Kitchen. On our Community Walk page, we've mapped out construction materials including: steel, plumbing, wood, stone, concrete, metal studs, and drywall.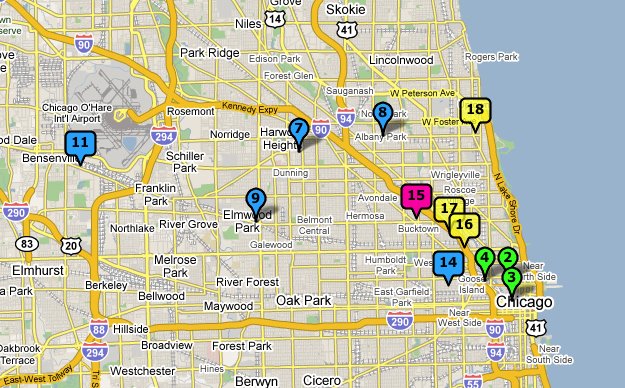 We've also listed sites we've gotten salvage from including doors and columns. Our incredible team of contractors, LEED professionals, structural engineer, architect and kitchen designers have been mapped out as well. We're very happy that the supplier furthest away from us is only 47 miles and our closest is just 3 miles from Logan Square Kitchen. The materials were manufactured regionally between 10 and 490 miles from the site, but most averaged at less than 100.
Thank you so much to Brett at Chas. Bender for working so hard to source and document such a local construction project! Brett's work dramatically reduces greenhouse gases in eliminating many transportation miles for deliveries. We also see our construction money recycled in our local and regional economy, even more important in tough economic times.
check out the map here